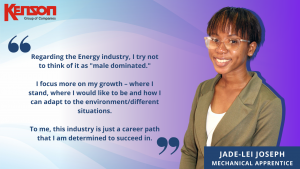 So Jade-Lei, please tell us a bit about yourself.
I would describe myself as a very determined, persistent person who is passionate about learning and evolving in the field. My interest in this field stems from my desire to work with machines and learn how they operate so I did my diploma in Mechanical Engineering at UTT, after which I interned for a few local companies, and those internships introduced to machines and practices in the industry and allowed me to dive deeper into the practices and understanding of the machinery. I had a short stint in the manufacturing industry before I got accepted into Kenson as a Mechanical Apprentice for one of our clients, and now pursuing my degree in Utilities Engineering.
Can you share more about what your job entails?
My job entails completing a rigorous training program created by the client that allows me to work alongside mechanical technicians, to learn about the equipment and how to perform maintenance on them.
How have you adjusted to work in the COVID 19 Pandemic?
I believe that I've adapted and adjusted quite well to the requirements and regulations put in place due to the pandemic. The situation has also pushed me to include more healthy practices in my daily regime.
What do you like most about your current position, and being a member of the Kenson Team?
I like that I have a well diverse training plan that allows me to work with and learn from experienced technicians, to grow into the best technician I could possibly be. I also appreciate that Kenson is a reputable company and tries to maintain their standards by communicating with technicians and ensuring that they're in alignment with their client's needs.
What were some of your concerns coming into this industry as a young woman?
Coming into this industry, I really tried to keep an open mind. I've heard that there were hardly any women in my field and that it would be hard to get jobs because I am female. However, I tried not to have too many preconceived notions so that they wouldn't discourage me from trying my best.
So what has been your personal experience working in the industry? Especially one that is considered to be "male-dominated"?
Working in this industry has gradually forced me out of my shell. Being a female (and an introvert), in order to get recognized for various opportunities, showcase my abilities and to involve myself in activities, I often had to be bold to be able to communicate well with my peers. Regarding the Energy industry, I try not to think of it as "male dominated." As such, I focus more on my growth – where I stand, where I would like to be and how I can adapt to the environment/different situations. To me, this industry is just a career path that I am determined to succeed in.
Are there any changes you would like to see in the industry, in terms of the working environment for women?
I would like for there to be more focus on the engineering solutions and techniques already present in the industry so that lack of 'brawns' wouldn't be used as a preconception for women entering into the field.
How has Kenson made a space for you in the industry, as a woman?
Kenson has given me an opportunity to expand my horizons by working on an offshore platform. An opportunity not many women experience in the field of Mechanical Engineering.
What advice would you give to a woman coming into this industry?
Very simply – Don't lose your focus on succeeding, no matter the downfalls. And do your job with enthusiasm.