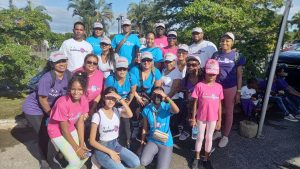 On Saturday 5th November 2022, Kenson Group employees gathered at Brian Lara Cricket Academy to participate in Bubbles for Life 2022; "The Event Against All Cancers", which was hosted by Trinidad and Tobago's Cancer Society and Republic Bank, to raise awareness for the different cancers in T&T.
All departments, from Operations to Human Resources to HSE to Accounting, showed up and showed out; banding together to walk, jog and run in support of the event's purpose.
It was an afternoon of comradery and team bonding, but more importantly, it was an afternoon defined by purpose and support.
We extend congratulations to the organizers for a successful event, and we look forward to participating in the sixth installment in 2023!